When:
November 1, 2010 @ 1:00 pm – November 5, 2010 @ 5:00 pm
2010-11-01T13:00:00-07:00
2010-11-05T17:00:00-07:00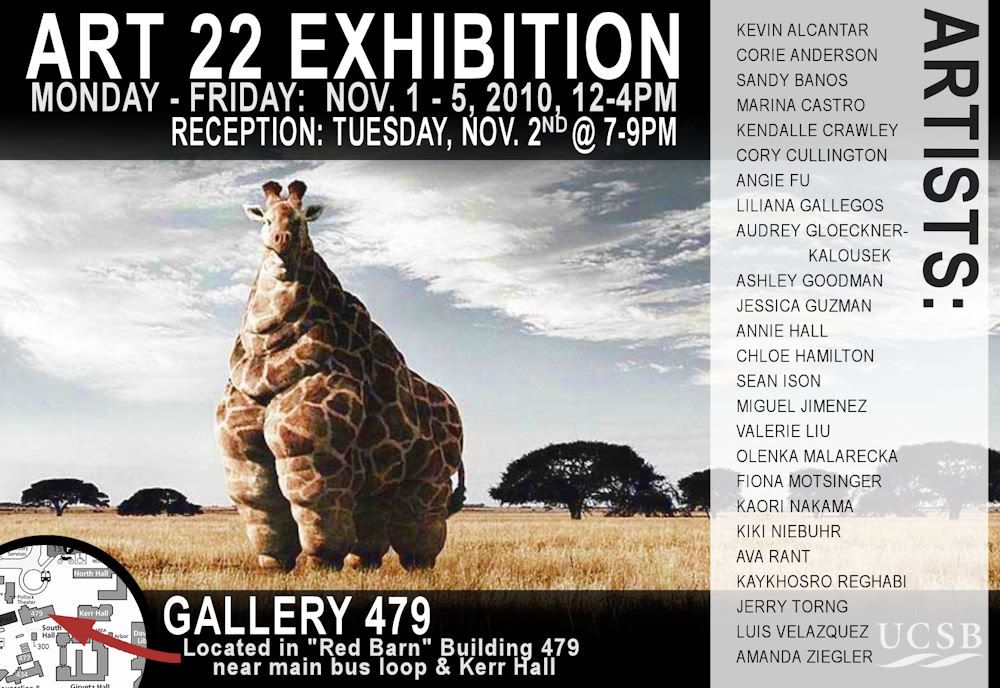 WHAT: ART22 EXHIBITION
WHERE: GALLERY 479
WHEN: NOV. 1 – 5TH, 12-4PM
RECEPTION: NOV. 2ND, 7-9PM
FEATURING: KEVIN ALCANTAR, CORIE ANDERSON, SANDY BANOS, MARINA CASTRO, KENDALLE CRAWLEY, CORY CULLINGTON, ANGIE FU, LILIANA GALLEGOS, AUDREY GLOECKNER-KALOUSEK, ASHLEY GOODMAN, JESSICA GUZMAN, ANNIE HALL, CHLOE HAMILTON, SEAN ISON, MIGUEL JIMENEZ, VALERIE LIU, OLENKA MALARECKA, FIONA MOTSINGER, KAORI NAKAMA, KIKI NIEBUHR, AVA RANT, KAYKHOSRO REGHABI, JERRY TORNG, LUIS VELAZQUEZ, AMANDA ZIEGLER
ART 22: DIGITAL MEDIA STRATEGIES will be hosting an exhibition that features nearly 100 digital prints! The exhibition archives current Photoshop endeavors from the talented and diverse students enrolled in the Fall 2010 quarter under the instruction of Graham Budgett and Desiree D'Alessandro as his Teaching Assistant.
There will be good art, company, and food/drink at our Opening Reception TUESDAY NOV 2nd, 7pm-9pm!
We look forward to seeing you there!! 😀
Facebook Event: http://www.facebook.com/event.php?eid=165117426846013
Gallery Information: http://www.arts.ucsb.edu/facilities/gallery479
http://i.imgur.com/hdWNedG.png
0
0
http://i.imgur.com/hdWNedG.png
2013-12-02 20:19:50
2013-12-02 20:19:50
ART22 EXHIBITION