When:
March 7, 2011 @ 6:00 pm – March 9, 2011 @ 4:00 pm
2011-03-07T18:00:00-08:00
2011-03-09T16:00:00-08:00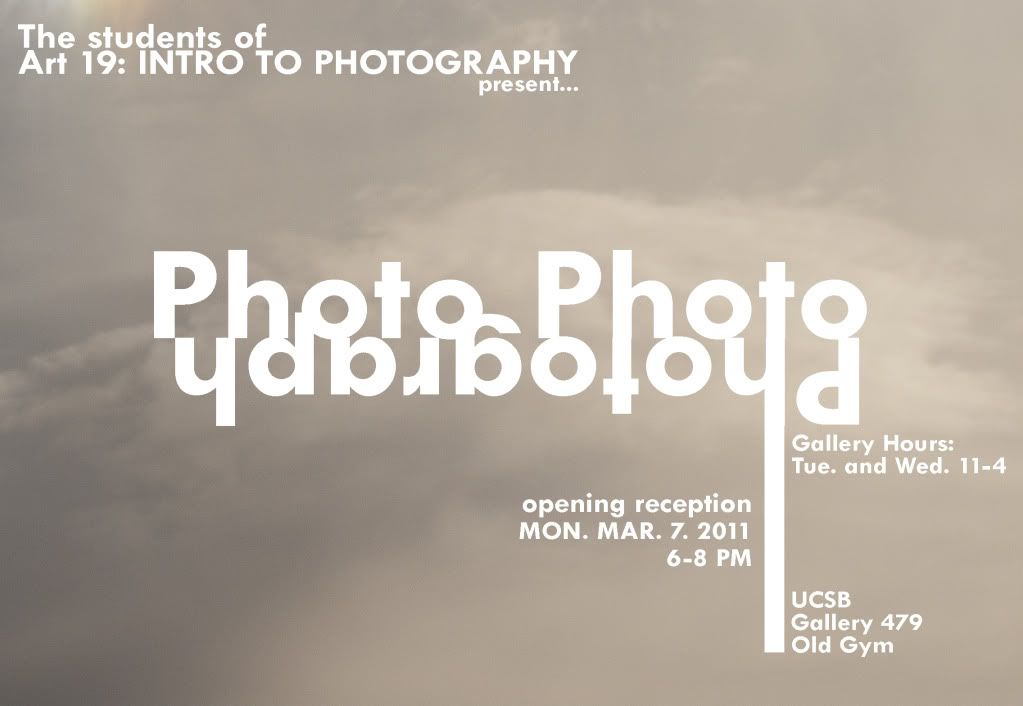 WHAT: ART 19: Introduction to Photography Exhibit
WHERE: GALLERY 479
WHEN: MARCH. 7TH, 6-8PM, & – MARCH 8-9TH, 11-4PM
RECEPTION: MARCH. 7TH, 6-8PM
FEATURING: Anand Aujia, Skyler Bolton, Ariel Bournes, Paula Jean Changala, Carissa Clark, Tessa Cole, Alicia Crismail, Marvin Dalumpines, Sara Mei Ling Finkelstein, Erika Frost, Richard Gill, Veronica Im, Sean Ison, Miguel Jimenez, Michael Johnson, Alexis Kafkis, Adam Kazberuk, Nicholas Koukoutsakis, Emily Lam, Elizabeth Lee, Westley Lockwood, Alexandra Lohrey, Courtney Mccarty, Julia Ment, Sekina Ngo, Kyron Nuckols, Brenna Osborn, Simone Payne, Jacqueline Pena
ART 19: DIGITAL PHOTOGRAPHY will be hosting an exhibition that features works from nearly 30 artists! The exhibition archives current photographic endeavors from the talented and diverse students enrolled in the Spring 2011 quarter under the instruction of Karen Spector and Teaching Assistants Jae Lee and Emily Halbardier.
There will be good art, company, and food/drink at our Opening Reception Tuesday March 7st @ 6pm.
We look forward to seeing you there!! 😀
Gallery Information: http://www.arts.ucsb.edu/facilities/gallery479
http://i.imgur.com/hdWNedG.png
0
0
http://i.imgur.com/hdWNedG.png
2013-12-02 20:19:48
2013-12-02 20:19:48
Intro Photography Exhibit